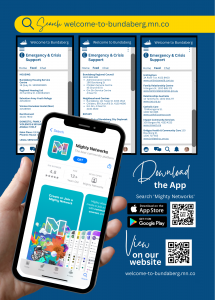 Welcome to Bundaberg Website and App
We bring together the people of Bundaberg to support new and existing residents so that we can build a thriving Bundaberg Community for everyone.
Connect with people in your community and local neighbourhood. Find local hidden gems and supports quickly and easily.
Welcome to Bundaberg is a new interactive community website and app. Powered by Mighty Networks. Connecting new residents and visitors with the local community, places and businesses that can cater to their needs and provide support.
Ask and answer questions in live chats
Search for information created by the community for the community
Learn about businesses and services supporting Bundaberg
Download the App on Apple or Android. Search Mighty Networks and join Welcome to Bundaberg.